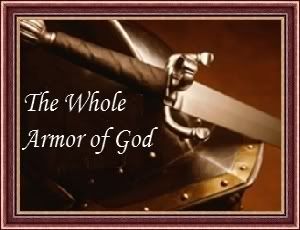 I have loved re-learning the pieces of armor this past week. It's wonderful when you find yourself digging into His Word, what He'll show you. I learned alot, I remembered alot, and I am deeply reminded of the importance of putting your armor on EVERY SINGLE DAY! And, armor up those children. They are "in the world" and under so much these days. We need to cover them in prayer and in armor. Their lives are under such influence and temptation. We need to do everything within our power to pray them up , teach them and protect these children God has given us.

The final 3 pieces of armor are..... the shield of faith, the helmet of salvation, and the sword of the Spirit.

The passage says this, "In addition to all this, take up the shield of faith, with which you can extinguish all the flaming arrows of the evil one. Take the helmet of salvation and the sword of the Spirit, which is the word of God."

Can I just say that when I think about all these pieces of armor I feel empowered?! I AM! I am empowered through Him. "I can do all things through Christ who strengthens me." Phil. 4:13

The shield of faith: the "shield of faith ministries" defines it this way.....

The Shield of Faith is not a real, physical shield. It is faith that acts like a shield. Faith that deflects the arrows of assault, fear and doubt that hurtle toward us from our enemy. Without faith no one can see God; furthermore, without faith, no one can snatch the wounded from the flames of Satan's arrows. The weapons we fight with are not carnal; they are spiritual and mighty to tear down everything that keeps the seeker from Christ.

I really like this visual. For me, the bigger my faith is, the bigger my shield is. The shield of faith is up to you. Keep your belief level high. Keep your faith high. Then you've got one mighty big shield to deflect those arrows aimed right at us. The more we believe God to do His mighty thing....even during times of severe doubt, our shield will cover us. I'd rather have a big one though.

helmet of salvation: this may be my favorite part....well, I can't say that....its all my favorite.
But, the beauty in this helmet is awesome! Ya see, our salvation is sealed when we receive Christ as our personal savior. 1 Corinthians 1:22, God "set his seal of ownership on us, and put his Spirit in our hearts...." We are sealed by Him and Satan CANNOT get into us. Our salvation is a done deal. As simple as our part is, it is a done deal. Satan can mess with us all we allow him to, but he CANNOT take Christ out of our hearts. No matter what we have done, how long we have strayed, no matter the sin. Christ is beautifully sealed within us through the helmet of salvation. Thank God for that bc as long as I was away from Him.....its a wonder He didn't throw His arms up in the air and say "I'm tired of waiting on this one." He's got patience. He'll never leave. He's got glorious patience.

sword of the Spirit: I have always thought of the sword as one sword because it represents the entire Bible. But, when you think about the sword....isn't the sword thousands of swords??
Aren't there thousands of scripture in the Bible that teach us, lead us, help us, encourage us??
YES! Well, the sword of the Spirit is actually thousands of little swords making up one big sword. That is the best news yet. Our sword is much better than we ever thought!

We began with the Truth buckled around our waist and we ended with the Truth in our hand.

The Truth is everything. It is key to battle. I pray that you have also re-learned, renewed, and regained confidence in your God as He is ready to go with you in battle. You just have to remember to put that armor on.

Armor up everybody! Armor up everyone you love!